Ramakrishna Mission Residential High School
During 2021-22 academic year, 45 students appeared for SSLC Board Exams. Master. Vijayaragavan G has scored 33 out of 500. Out of 45 students 21 students have obtained 1st class, 16 students have obtained 2nd class and the remaining 07 students have obtained 3rd class.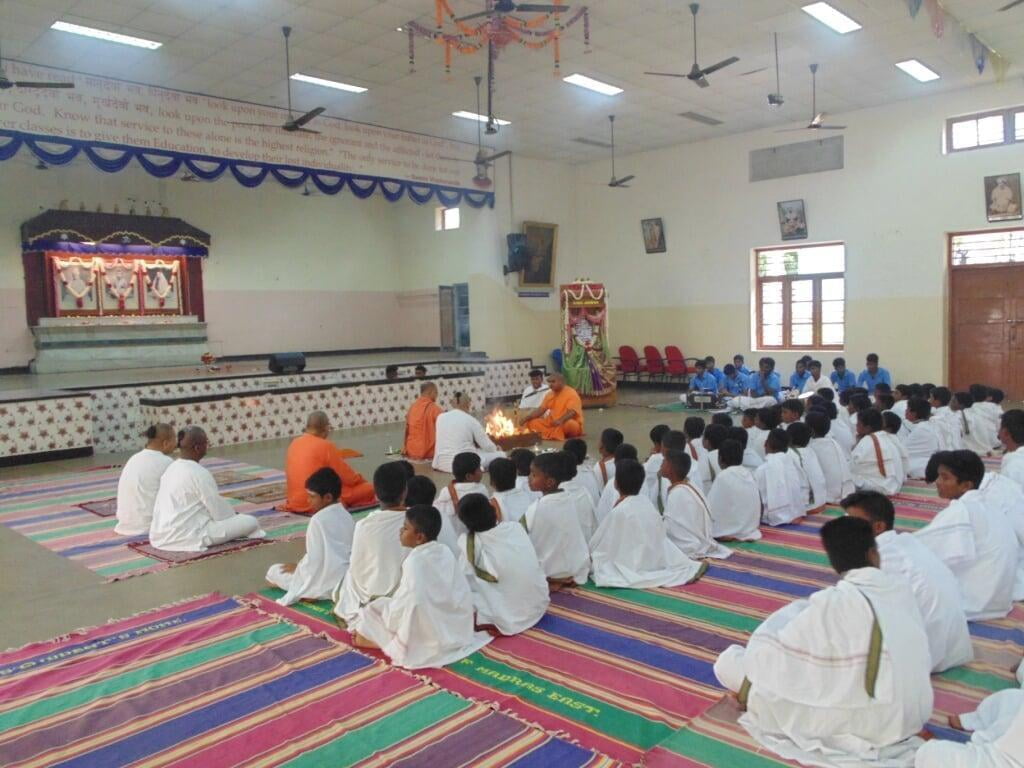 Admission & Strength
Admissions are made in the VI standard on the basis of poverty cum merit. As soon as applications are received from the applicants, physical verification at their native places is done by the teachers regarding genuineness of the applicant's status and the committee headed by the Secretary Swamiji finalizes the admission.
During this year, 48 students were admitted in 6th Std, 3 students in 7th Std and 2 students in 8th Std. As on 30-06-2021, the total Students strength is 244 (6th Std - 48, 7th Std - 45, 8th Std -56, 9th Std – 50 and 10th Std-45). Break-up: OC – 1, BC – 123, MBC – 70, DNC – 5, SC-34, SCA-6, ST –5.
For students with Dyslexia, special classes are being organized in the Home through a special teacher. 11 students from 7th standards are given special training.
​​STEM Laboratory in Residential High School
A newly established STEM (Science, Technology, Engineering, and Mathematics) laboratory was inaugurated in the Residential High School at 10.45 a.m. on Tuesday, 21 March 2023. Infosys Foundation has established the STEM Lab free of cost for the use of our High School students.

The STEM Lab is situated on the second floor of the main building 'Palace for the Poor'.

Sri Kiran N. G, Program Manager, Infosys Springboard (ETA), and Sri Santhosh.MM, Specialist Learner – Infosys Springboard (ETA), both from Infosys visited the Home and graced the occasion as Chief Guests along with other guests, staff, and students.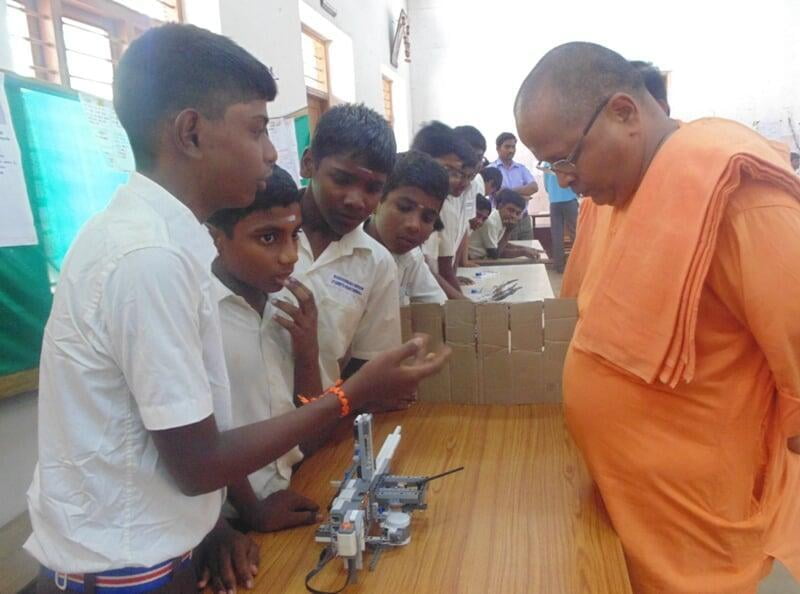 Robotics Training
Students are given training in robotics to equip them to understand and to get updated with the latest / growing technology. This helps them to cope up with the modern world when they take-up their career. Exhibitions were conducted & students were invited from other schools to participate in the same.
Extra Curricular Activities
The following clubs were functioning in the School:
Pasumai Padai, Science club, Junior Red Cross, Tamil cultural club, English Club. These clubs conduct various competitions like drawing, essay writing, speech & conduct awareness programs to develop the creativity among the students.
Students Police Cadet:
As per the instructions of the Government, Student Police (SPC) was formed in the school. This project aims to inculcate in students respect for the law, discipline, civic sense, empathy for the vulnerable sections of the society. Our cadets participated in various awareness programmes. Green Cadet Corps unit of our Residential High School was engaged in maintaining greenery of our Home & proper waste management by segregating and disposing in a proper way.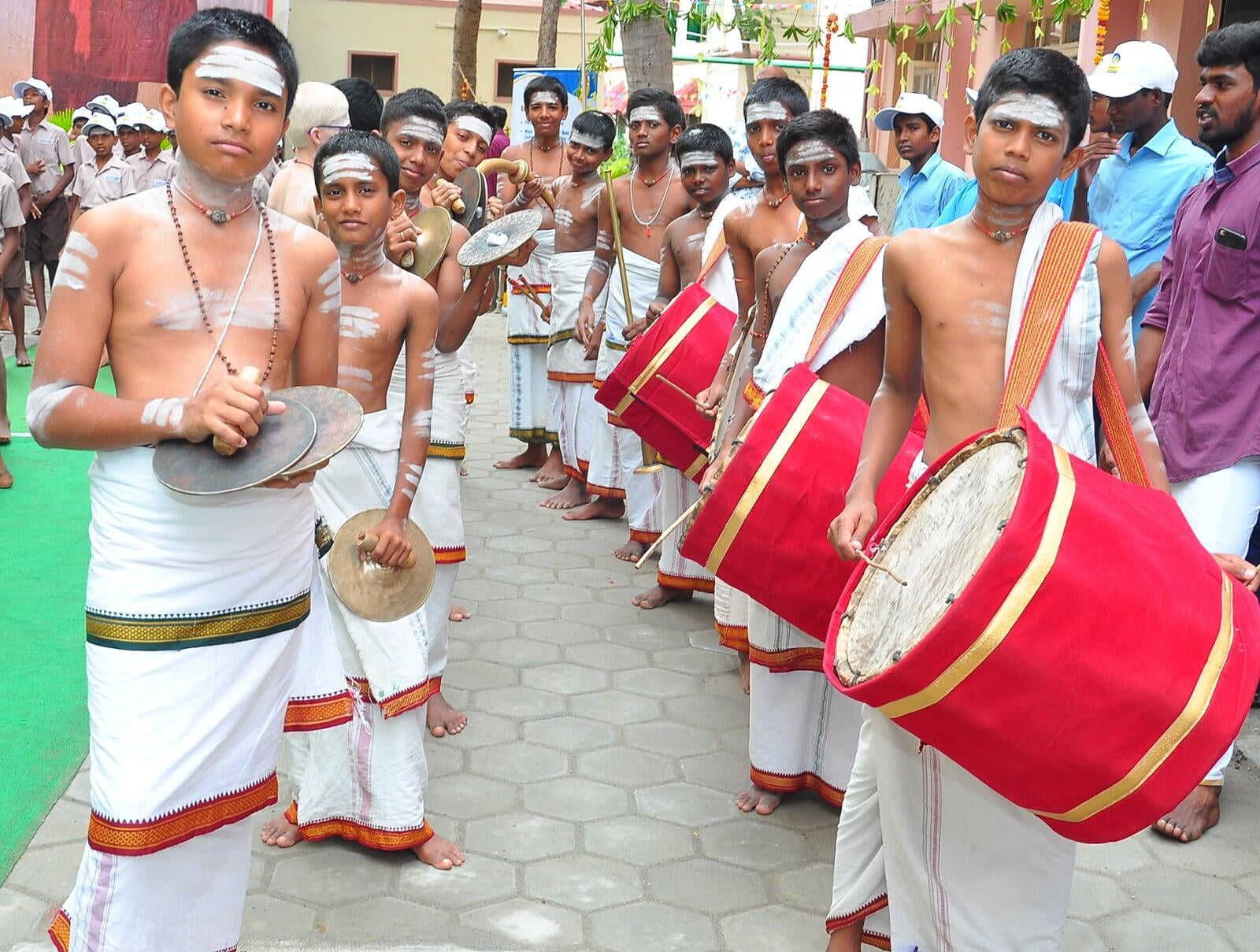 Kailaya Vadyam



Kailaya Vadyam, one of the oldest musical arts in Tamilnadu, used to play in the temples during festival times. Weekly three days experts are giving training to our boys. Our troupe performed during processions of Guru Maharaj, Annai Sarada Devi, Swami Vivekananda & Swami Ramakrishnananda jayanthi days. Apart from these, the troupe played during important functions of the Students' Home.

Harmonium Class:
A qualified music teacher is taking harmonium classes for our school students for 3 days per week. Nearly 15 students are attending this class.

Tabala: A qualified artist is conducting tabala classes for our school stu- dents during the weekends.

Other Activities:
Copies of Ramakrishna Vijayam, Tamil monthly magazine of Ramakrishna Order, are being distributed to the parents / guardian of our present students free of cost.
On Jan 12th, Youth day was celebrated in our school grand manner.